VIENS !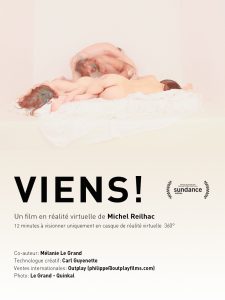 A virtual reality film by Michel Reilhac To be experienced exclusively through a 360° virtual reality head set
Co-author : Mélanie Le Grand Creative technologist : Carl Guyenette Photo credit : Le Grand – Quinkal
Cast : Amador Jojo, Ayoti, Christophe De La Pointe, De La Fouquette, Flozif, Yumie Volupté
12 min / France
DOWNLOAD
Three women and four men, all naked, appear out of nowhere in the white, sunny space of a bright room outside of time. They meet, touch, share their energy, and are transformed spiritually; they let themselves become one with the world.
The « magic » of virtual reality will allow you to share this poetic, artistic and enlightning experience.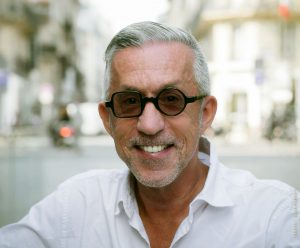 About the director
Michel Reilhac one of the leading world's transmedia expert designs innovative story based experiences, using digital platforms (cinema, tv, mobile, tablets, …) and real life events. His creative approach to storytelling ambitions to offer viewers/participants a unique opportunity for an immersive, participatory and interactive experience.
He has been the CEO of Arte France Cinema for 10 years and it's Commissioning Editor for Film Programs. In January 2013 he has been elected Man Of The Year 2012 by one of the main film trade magazine « Le Film Français. »
He is presently the Head of Studies for the Venice Biennale College Cinema and Director of the Multi Platform Master Studies at Ronda Media Business School.
Official Selection
New Frontier – Sundance Film Festival
Kaleidoscope World Tour:  Londres/Berlin