FABULOUS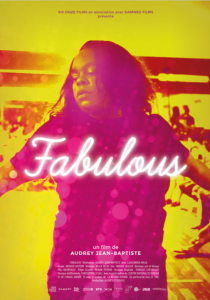 Un film de Audrey Jean-Baptiste 
Documentaire / 46 min / Guyane française
DCP / Couleur
Langue: Français
Date de sortie : le 29 avril 2020
Casting
Lasseindra Ninja, Victor Lopez Arboleda, Philippe Johannes, Jordy Cordeiro, Jeanine Verrin, Alberte Thomas
Dossier de Presse
Résumé
Après 10 années d'absence, Lasseindra Ninja, icône incontournable du voguing, revient en Guyane, sa terre natale, pour former de jeunes danseurs. En leur transmettant un état d'esprit et une attitude basés sur l'affirmation de soi, elle leur livre des outils pour résister à l'hostilité du monde qui les entoure.
Inventé dans les clubs underground de New York dans les années 80, le voguing a permis aux communautés noire, latino et LGBTQIA+ de s'exprimer sous forme de joutes dansées, dans un espace sécurisé.
Sélections officielles:
FRAMELINE (SAN FRANCISCO)
OUTFEST (LOS ANGELES)
INSIDEOUT (TORONTO)
MIX MILANO (MILANO)
IN&OUT (NICE)
F.A.M.E (PARIS)
FESTIVAL NOUVEAU REGARDS (GUADELOUPE)
DAMN THESE HEELS FILM FESTIVAL – UTAH FILM CENTER (SALT LAKE CITY)
MARKET PHOTO WORKSHOP – FRENCH INSTITUTE (JOHANNESBURG)
PRIDE IN HARLEM (NEW YORK)
THIRD HORIZON : CARIBBEAN CINEMA NIGHTS (NEW YORK)
FESTIVAL INTERNACIONAL DE CINE DOCUMENTAL DE BUENOS AIRES – FIDBA (BUENOS AIRES)
SCOTTISH QUEER INTERNATIONAL FILM FESTIVAL (GLASGOW)
LUSTSTREIFEN FILM FESTIVAL (BASEL)
FREAQWEEK - UNIVERSITY OF WISCONSIN (EAU CLAIRE)
SEATTLE QUEER FILM FESTIVAL (SEATTLE)
EVERYBODY'S PERFECT – GENEVA INTERNATIONAL QUEER FILM FESTIVAL (GENEVA)
NEWFEST (NEW YORK)
UNERHÖRT MUSIC FILM FESTIVAL (BERLIN)
CINE MOVILH FESTIVAL INTERNACIONAL DE CINE LÉSBICO, GAY, BISEXUAL Y TRANSEXUAL (SANTIAGO DE CHILE)
MIX BRAZIL FILM FESTIVAL (SAO PAULO)
FESTIVAL INTERNATIONAL DU FILM DOCUMENTAIRE AMAZONIE CARAÏBES – FIFAC (ST LAURENT DU MARONI – GUYANE) : PRIX DES LYCEENS 
MIX COPENHAGEN FILM FESTIVAL (COPENHAGEN)
SLOVAK QUEER FILM FESTIVAL (BRATISLAVA)
REEL AFFIRMATIONS : WASHINGTON DC'S LGBTQ INTERNATIONAL FILM FESTIVAL (WASHINGTON)
IDFA – INTERNATIONAL DOCUMENTARY FILM FESTIVAL (AMSTERDAM) : BEST OF FESTS SELECTION
FESTIVAL CINEBANLIEUE (SAINT DENIS)
INTERNATIONAL QUEER & MIGRANT FILM FESTIVAL (AMSTERDAM)
La réalisatrice
Après des études d'anthropologie et un master en réalisation documentaire, Audrey Jean-Baptiste travaille depuis dix ans comme assistante mise en scène pour la télévision et le cinéma. En parallèle, elle réalise des films autoproduits, se forme à l'écriture de scénario et participe à plusieurs résidences d'écriture. Elle réalise ainsi son premier documentaire, Fabulous, produit par Six Onze Films. Elle prépare actuellement le tournage du court-métrage Les Cœurs battants produit par Les Films Grand Huit.