El Tercero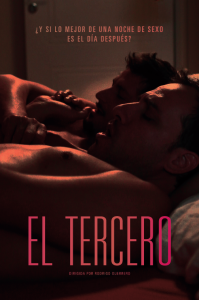 El Tercero
international tittle : The third one
Written and Directed by Rodrigo Guerrero 
ARGENTINA 2013
Cast
Carlos Echevarria, Emiliano Dionisi, Nicholas Armengol
Language : Spanish
Subtitles : English
Production company : Twins Latin Films
Color DCP 70′
DOWNLOAD
Synopsis
After meeting in a chat room, Fede (22) arrives at a downtown building to have an intimate encounter with a gay couple older than him. As the night unfolds, Fede has an intense and telling experience. The next morning finds him different, as if suddenly he had found a new possible way to love.
About the director
I choose to believe that sexuality implies having possible experiences that are complex, deep, and varied. The explora- tion of such experiences is the right of each and every person, and we cannot question what each one chooses to do during intimacy to feel the pleasure of the consensual encounter bet- ween bodies.This project is basically an attempt to give shape to these thoughts that currently cross my mind and to promote sexua- lity as a space for freedom, and as a space that is specifically human, unique and individual where we can get to know our- selves.
Official Selection
Honolulu Rainblow (USA)
Frameline San Francisco (USA)
Outfest Los Angeles (USA)
Inside Out Toronto (Canada)
BAFICI Buenos Aires (Argentina)
Marais Film Festival (France)
In & Out Nice (France)
EL TERCERO by Rodrigo Guerrero from Outplay on Vimeo.