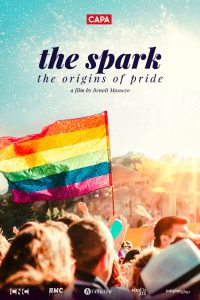 A film by Benoît Masocco
Documentary / 98 min / France / 2019
DCP/Color
Language: English, French
Press Kit

Official selections
IN&OUT (NICE)
QUEER LISBOA FESTIVAL (LISBOA)
FESTIVAL D'UN BORD A L'AUTRE (ORLÉANS)
FUSION INTERNATIONAL FILM FESTIVAL (OSLO)
FESTHEART (RAKVERE)
FLORENCE QUEER FESTIVAL (FIRENZE)
FINNISH LGBT FILM FESTIVAL VINOKINO (TURKU / HELSINKI)
CINE MOVILH FESTIVAL INTERNACIONAL DE CINE LÉSBICO, GAY, BISEXUAL Y TRANSEXUAL (SANTIAGO DE CHILE) : BEST DOCUMENTARY AWARD
PERLEN QUEER FILM FESTIVAL (HANNOVER)
EVERYBODY'S PERFECT – GENEVA INTERNATIONAL QUEER FILM FESTIVAL (GENEVA)
BEIJING QUEER FILM FESTIVAL (BEIJING)
IMAGE +NATION (MONTREAL)
Synopsis 
This is a story of anger. That of the customers of the "Stonewall inn", in a gay bar in New-York. It's 1969 and they don't have the right to stand in the street or even dance. One more police raid. A revolt. Several days of riots. This is our starting point to tell an almost unknown story: fifty years of struggle for equality, for humanity, for love… the history of the LGBTQ+ struggle.
This is a story of three cities. This story will be told through the perspective of three iconic neighborhoods: the Castro in San Francisco, Le Marais in Paris and Greenwich Village in New York. Each of these neighborhoods tell of a specific moment: the repression in the 60s and 70s, the appearance of AIDS in the 80s, the phenomenon of fashion with the appearance of gay marketing and drag-queens in the 90s, the struggle for marriage equality and normalization from the 2000s.
This is a story of trans, women and men. Told with a cinematic narrative, with few comments, this film is made up of interviews of direct witnesses of that time (personalities, artists, politicians, entrepreneurs or ordinary citizens), rare archives and current-day filming in these neighborhoods that have so changed.