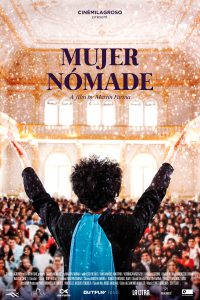 A film by Martin FARINA
Drama / 74 min / Argentina
DCP / Color
Language: Spanish
Cast
Esther DIAZ, Juan Manuel MARTINO, Javier RIERA
Synopsis
Esther Diaz discovers her own self & transgenerational sex attraction late in life. While « exploring » and after she decides to study again and gets a PhD with distinction. She acts and narrates her own true story and experience with a touch of subjective fiction.
Official selections
20 Edition BAFICI – international Festival of independant cinéma, Buenos aires, 2018
Queer Lisboa – International Queer Film Festival, 2018
Gender Bender Internation Festival, Bologne, 2018
La Habana International Film Festival
Black Movie Geneva, 2019
…
About
The Female Nomad shows the life of the Argentine philosopher and essayist Esther Diaz and transits the most relevant points of her philosophical work, linked to the parameters of sexuality and pleasure dominant within the patriarchal culture and the possibility of subverting these values ​​from the Post-Porn perspective.
From fragments of her daily activities, her home rituals, her congresses of philosophy and her sexual habits, the documentary builds a narrative which bends between the past, the present and the dream.
Esther's life is marked by moments of great intensity and radical twists. Her voice initially tells the circumstances in which she attempted to commit suicide, the details of her tedious rehabilitation and the joy of reaching, after that break, the greatest dream of her life, to be a Doctor in Philosophy.
After years without being able to establish a relationship, Esther turned to sexual unrest. Promiscuity and her professional career were triggered in parallel.
Esther recalls that she lived a life divided between formality and transgression. Her children grew up in the midst of the maelstrom, trying to mold themselves into a multi-faceted, unconventional mother.The documentary captures how all these dimensions coexist in Esther's life. The narrative helps us to reframe her actuality and her way of being, while showing how philosophy goes through the life of Esther and determines the way in which she feels and understands the environment that surrounds her.