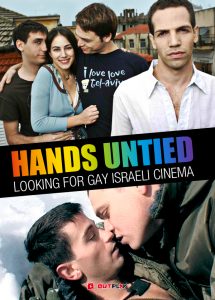 Hands Untied
Written & Directed by Yannick Delhaye
FRANCE 2013
Documentary
Language : Hebrew/English
Subtitles : English
French version available
Production companies : Esperanza Productions, Ciné+
Color DCP 63′
Synopsis
Israel is often described as a country of paradox. Opposing war and peace with a great welcoming and open culture as well as traditions that could sometimes be heavy and difficult to accept for a booming and modern population.
Despite the abundance of its directors and cinematographers, it was not much anticipated that one day Israel could become an incredible land of creation for LGBT cinema. The last decades have seen a generation of authors as 
Amos Guttman, Eytan Fox, Dan Wolman, Tomer Heymann who have been real pioneers trying to change mentalities and religious conservatism.  
This « new » cinema provokes, questions, revives and surely participate in the true opening of the country. This documentary offers an excellent panorama of this very interesting topic with many interviews of famous directors and excerpts of films archives. 
Official Selection
Outview Athens (Greece)
TLVFest  Tel Aviv (Israel)
Marais Film Festival (France)
Audience Award Documentary – Image+Nation (Canada)
WATCH THE FILM