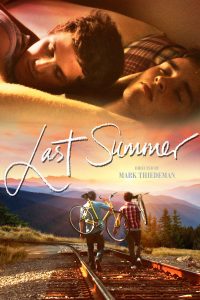 Written and Directed by Mark Thiedeman
USA 2013
Cast
Samuel Pettit, Sean Rose, Roben Sullivant, Byron Taylor, Deb Lewis …
Language : English
Subtitles : French
Production Company : Gray Area Films
Color DCP 73′
DOWNLOAD
Synopsis
LAST SUMMER tells the story of two high school sweethearts, Luke and Jonah, who spend their final months together over the course of a long, quiet summer in the rural South, contemplating their uncertain future and the uncertain future of America. Jonah, sensitive, quiet and artistic, prepares to leave his small town for college, leaving Luke behind, but all he wants is for Luke to ask him to stay. But Luke, an athlete struggling through summer school, knows that his boyfriend needs to experience the world beyond their home. Though he is somewhat aimless and unsure of his place in the world, he begins to find solace in an old camera that he finds in an antique store. LAST SUMMER positions their love story against a world of baseball fields, bicycles, church, and seemingly conservative values, though the boys never face adversity from their community; instead, they fit directly into the fabric of their all- American town.
About the director
Mark Thiedeman was born in New Orleans and spent his teenage years in Little Rock, Arkansas, before moving to New York City to study film and television production at NYU. He continued making films in New York for ten years until relocating to Little Rock to begin work Last Summer. His short story "Virgin" was published in Scholastic's anthology You Are Here, This Is Now: The Best Young Writers and Artists in America. 2013 marks the third year he has presented work at the Little Rock Film Festival, where he was nominated for Best Director for his shorts "A Christian Boy" and "Cain and Abel," and won the award for Last Summer.
Official Selection
Mostra Fire Barcelona (Spain)
BFI London (England)
Inside Out Toronto (Canada)
Torino Film Festival (Italy)
Outfest (USA)
Marais Film Festival (France)
Press
"A masterpiece." — Howard Feinstein, Filmmaker Magazine
"A director worth watching. The images of nature have a Malick-like luminosity."
— Stephen Farber, The Hollywood Reporter "One of the finest directorial debuts of recent years."
— Brandon Judell, CultureCatch "Don't be surprised if you're haunted days later…"
— Chuck Wilson, LA Weekly
"Extraordinary. Beautifully realized." — Gary Kramer, GayCityNews
« Lovely. Its prolonged spell [is] deeply felt long after the film is over. — Ryan Lattanzio, IndieWIRE / Thompson on Hollywood
"Gorgeously shot. Poetic." — Cheree Franco, Arkansas Democrat-Gazette
"Stunning." — Mossy, Gayletter
LAST SUMMER
from
Outplay
on
Vimeo
.