LAS HERIDAS DEL VIENTO (WOUNDED BY THE WIND)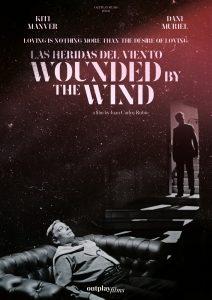 A film by Juan Carlos Rubio
Spain / 75 mim / Drama
DCP / Black & White
Dobly Digital 5.1
Cast : Kitty Mánver, Dani Muriel
Kitty Mánver: In films, she has been directed by Almodóvar, Trueba, Bollaín, Urbizu or Álex de la Iglesia. On stage, she has starred in plays by Kushner, Mamet, Belbel, Valle-Inclan, Lope de Vega, Lorca, Shakespeare or Pirandello for directors like Strasberg, Narros, José Luis Gómez or José Tamayo. She won the Goya Award of the Spanish Film Academy as Best Supporting Actress ('92), the Malaga Film Festival Award for Best Actress ('98) and three SAG Awards as Best Actress on a Leading Role for Stage ('02, '05 and '14).
Dani Muriel: He gained popularity due to comedy roles in television like "Aquí no hay quien viva" or "Gym Tony" even though his performances on stage have ranged from not only comedy ("Toc-Toc", "The importance of being Ernest") but also drama ("Wounded by the wind") and musicals ("Cabaret"). Among his most recent films there are "Wounded by the wind" and "Foam party!".
Synopsis : His father's death forces David to take charge of his legacy. Among their belongings is something unexpected: letters of love from another man. Baffled by the discovery, he decides to visit the alleged lover of his father and discover the truth.
Presskit :
Download HERE
Official selection
14th Seville European Film Festival (World Premiere)
43rd Huelva Iberoamerican Film Festival – Best Andalousian Director
22nd LesGaiCineMad, Madrid International GLBQT Film Festival  Best Performance in a Starring Role
30th Andalousian Film Awards – 6 nominations  1 award (Best New Director)
17th Jaén Film Festival – ASECAN Special Award10th OUTShine Film Festival Miami (International Premiere)
18th CINHOMO / Valladolid GLBTQ Film Festival
3rd Avilés GLBTQ Film Festival at Niemeyer Center
13th Zinentiendo / Zaragoza GLBTQ Film Festival
3rd Cinema Pride Madrid
Cine Horizontes, Festival of spanish cinema, Marseille, 2018
El Lugar sin limites, International Festival LGBT Cinema, Ecuador 2018
International Film Festival LGBTQ+ in Grenoble « Vues d'en face »(FR)
Festival Adaptation in Cholet (FR)
…
About :
Las heridas del viento is the cinematographic adaptation of Juan Carlos Rubio's homonym theater play which was performed for more than two years at Teatro Lara (Madrid). Then, the play encounters an international success in the USA, Greece, Italy, Mexico, Argentina and even Chile.