SOMETHING MUST BREAK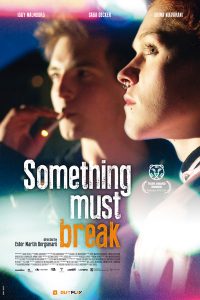 Written and directed by Ester Martin Bergsmark
Drama / 81 min / Sweden / 2014
DCP / Color
Language: Swedish
Subtitles : English
With
Saga Becker, Iggy Malmborg, Shima Niavarani.
Synopsis
A love story between two young men where one is the androgynous Sebastian and one isAndreas who is not gay. They form a unity. It' s them against the polished Swedish Ikeasociety. They dream about escaping boredom and the risk of becoming what everyone else is. And then there is Ellie- the superwoman growing inside of Sebastian who Andreas loves and fears. This is the summer when everything happens and both of them will choose paths that will determinate their lives forever. It's a battle for love where Sebastian finally has to realise that he has to let Ellie loose, find the strength within himself and not let his happiness depend on someone else.
About the director

For ten years I have tried to twist and turn reality. I´ve tried to get closer to the experiences and the images lodged deep in us humans. I want my films to shake the core of the audience. But in a way that make you tingle. I want my films to open up to the world. After seeing my films there should be more possibilities. I want to challenge how we perceive things that we take for granted by pointing the camera in directions the audience didn´t know they could look. My films speak to the freak inside you and reaches out a hand. They call for your hidden sides to step out into the light.
Official Selections
International Film Festival Rotterdam (NL)- Tiger Award winner
Göteborg (Sweden)
Tribeca NYC (USA)
Marais Film Festival (France)
Frameline San Francisco USA:  Best Film
Festival du Nouveau Cinéma Montréal (Canada)
Chicago International USA:  Silver Hugo
Outfest Los Angeles USA:  Best Film
Torino LGBT (Italy)
Queer Lisboa (Portugal) Best Film, Best Actress
TLVFest Tel Aviv (Israel)
Miami LGBT (USA)
Istanbul International (Turkey)
Istanbul LGBT (Turkey)
Taipei FF (Taiwan)
Guadalajara Intl. (Mexico) Best Film
Pink Gent (Belgique)
Zinegoak Bilbao (Spain)
Thessaloniki intl. FF (Greece)
Outview Athens (Greece)
Orlando FF Bregamo (Italy)
Honolulu Rainbow (USA)
Mostra Fire Barcelona (Spain)
BFI London (England)
Seattle LGBT (USA)
Transylvania Intl. FF Cluj (Romania)
Durban Intl FF (South Africa)
Off Plus Camera Cracow (Poland)
Mix Copenhagen (Denmark)
LesGaiCineMad (Spain) Best Actress Award, Jury Prize for Best Film
…